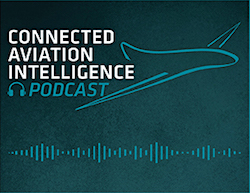 On this episode of the Connected Aviation Intelligence Podcast, Job Heimerikx, CEO and co-founder of AirFi, joins to discuss commercial airline wireless in-flight entertainment and connectivity trends. 
AirFi a global supplier of wireless in-flight entertainment and connectivity technologies, headquartered in the Netherlands. Their technology is rather unique in the in-flight entertainment and connectivity market because of its size and what it can enable for airlines in terms of in-flight movies, ordering meals and payment validation among other applications. 
Some of their airline customers include Sun Country, Eastern Airlines, Corendon Dutch Airlines and Atlantic Airways among others. We discuss the unique size of their wireless IFEC solution, how they've added Iridium connectivity to their technology and why they're still finding that the type of low bandwidth non-streaming connectivity they're providing is still popular with airlines in 2022. 
Have suggestions or topics we should focus on in the next episode? Email the host, Woodrow Bellamy, at wbellamy@accessintel.com, or drop him a line on Twitter @WbellamyIIIAC.
Check out our publication Avionics International @AvionicsGlobal + www.aviationtoday.com.
Join our Avionics International LinkedIn group to suggest topics we should cover in our podcast, publications and events. www.linkedin.com/AvionicsMag